What an inspiring story. Families are as much a part of a patient's care as anything else. All too frequently we may work with those who view the family as a hindrance and find it difficult to approach them in a caring open manner. Erika is tapping into the heart of what we do.
NCF Nurses Blog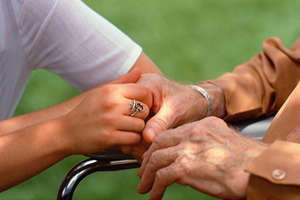 During a clinical rotation, nursing student Erika Hellstrom had a patient in failing health and preparing for palliative care, but his wife told Erica, "God gives us all a purpose and mine is taking care of him."
After their intimate conversation, Erika said, "I understood in a new way that to have a successful care plan, everyone has to be on board." Erika learned the importance of providing listening and caring to the family, not just the patient.
"Remembering that we are called to love everyone is an opportunity we may miss. God calls us to love one another, not just the sick and poor, but all. This includes patients, coworkers, friends and family," says Erica.  "When we love and care, there is no limit to the good we are called to and capable of extending."
Read more about Erika's learning experience in "Caring For All," a free…
View original post 59 more words